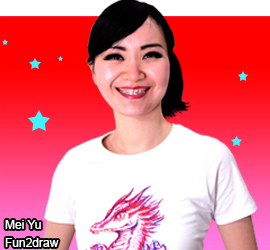 Hey everyone! This is Mei Yu, the creator and artist of Fun2draw and MeiYuArt. I enjoy creating my original animated series, Animate My Life, which is based on my funny, embarrassing, and memorable real life experiences.
My Fun2draw channel has over 1.6 million subscribers, 300 million views, and 800 art challenge, drawing tutorials, and art videos. I'm very happy my Fun2draw videos can help inform, entertain, and inspire many on a daily basis!
Many viewers have asked me why I started Fun2draw. I was self-taught when I was young. I didn't have a special art teacher or art classes - until high school and college. I know it can be frustrating to teach yourself to draw something. It can also be tough to find someone who's there to show you what you like to draw, in an easy, fun way, step by step.
Many people love to draw but they don't know how to start. Lots of people get discouraged due to lack of inspiration or support. Quite a number of parents have asked me to teach their kids private art classes. I thought instead of helping a few, I could help many worldwide. That's why I started my Fun2draw channel on YouTube, and my Fun2draw apps.