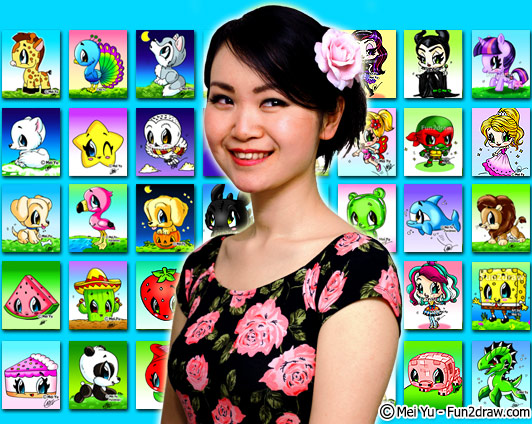 Get the latest Fun2draw free gift drawings & printables, watch exclusive EXTRA videos, and more on Fun2draw.com, the official Fun2draw website!
Created by Mei Yu, a Canadian artist, Fun2draw is one of the most popular art challenge and art tutorial channels on YouTube. The Fun2draw channel has more than 700 art videos, and features new art challenges or "Animate My Life" animations every week in a new Fun Friday art video! Mei Yu's special art challenges include "How to Draw Yourself in 10 Animated Cartoon, Game, and Comic Styles", character mashups, genderbends, 1 minute real-time "Artist Vs. Time" challenges, blindfold challenges, 3 marker challenges, upside-down challenges, and more!
There are also 600+ art lessons from easy to advanced skill levels. Some of Fun2draw's popular art tutorials include how to draw people and celebrities, how to draw faces, hairstyles, poses, and clothing, how to draw animals and pets, how to draw makeup, how to draw food, how to draw anime and manga, and more! New art lesson videos every Tutorial Thursday.
Check out Fun2draw for all these art videos, art challenges, and more!
Here at Fun2draw.com, you'll find what you can't get on YouTube! Print out the latest Fun2draw freebies and free gift drawings. Check out the art gallery for selected images from Mei Yu's previous Fun2draw art videos and art challenges. And learn more about Mei Yu, the creator of Fun2draw!
Also, learn more about all the Fun2draw apps and eBooks for Apple, Android, and Kindle devices. These Fun2draw apps and eBooks will show you how to draw, color, and shade cute, easy, & stylish NEVER-Before-Seen Fun2draw cartoon characters, animals, people, and food step by step.
Keep Watching and Fun2drawing! <3